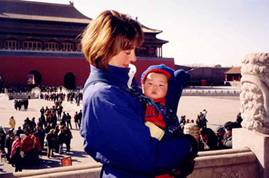 For adoption trips, whether you travel individually or with a group, you will always be personally escorted. Upon your arrival in China, one of our experienced English guides will meet you personally at the airport, settle you into your hotel and assist you with any needed preparations before,during and after the adoption process. As well, you will be shown some of the sites, experience Chinese culture and be given an introduction to local people's lives. You will never feel alone in China – we are here to help you in any way needed.
For those adopting, the stay in China generally varies from 12-16 days. Families will first travel to Beijing and to the province capital of their adoption to finalize the adoption then travel to the Embassy in Beijing to obtain child's visa.
China Adoption Trip Sample Itinerary:
Day1(Saturday) Entry Beijing meet guide at airport and transfer to Hotel.
Day2(Sunday) Flight to child's Province city. it depends on flight time or arrange sightseeing before flight.
Day3(Monday) Go to Civil Affairs to meet baby and sign the Agreement On Entrusted Fostering during integration Period.
Day4(Tuesday) Go to Civil Affairs for adoption registration, notarization and applying baby's passport.
Day5(Wednesday) Go to department store to buy some daily necessities for baby.
Day6(Thursday) Local sightseeing or rest.
Day7(Friday) Receive all the documents and pick up baby's passport.
Day8(Saturday) Flight to Beijing.
Day9(Sunday) Sightseeing in Beijing.
Day10(Monday) Medical examinations for baby (only for family who applying for immigration visa for baby) and Visa appointment at the Canadian Embassy.
Day11(Tuesday) Sightseeing in Beijing.
Day12(Wednesday) Pick up baby's visa.
Day13(Thursday) Transfer to airport take internatonal flight home .
This is simply a sample itinerary of an adoption trip for a Canadian adoptive family .Every adoption trip is different. For example, American families need to travel to the U.S. Consulate in GuangZhou to obtain child's U.S. entrance visa .

With many years of facilitating adoption trips, we understand the special requirements of families during this emotional and life-changing time. Contact us at info@journeyhometours.com for more information about how we can assist you during your travel to China adopt your child.
Please note... Journey Home Tours is not an adoption agency. All adoptions must be legally arranged between your country's government agencies and the China Centre For Adoption Affairs before we can assist with your travel arrangements.